Five Week Women's Lent Study Begins Tuesday, March 22nd
"He Chose the Nails" by Max Lucado

Tuesday Morning Class – Tuesday Women's Bible Study – 9:30 a.m. Parlor (Kay Birkholz, leader)
Tuesday Evening Class – UMW Dangerous Women – 6:30 p.m. Parlor (Ilene Miller, leader)

This study explores the many gifts that Christ provided to us at his crucifixion. The hill of the cross is
rich with the gifts of God's grace. These gifts he didn't have to give. The only required act for our
salvation was the shedding of blood, yet God did so much more. So, as we unwrap these gifts, we
need to pause and listen for his voice. As we do, perhaps we will hear him whisper,
"I did it just for you."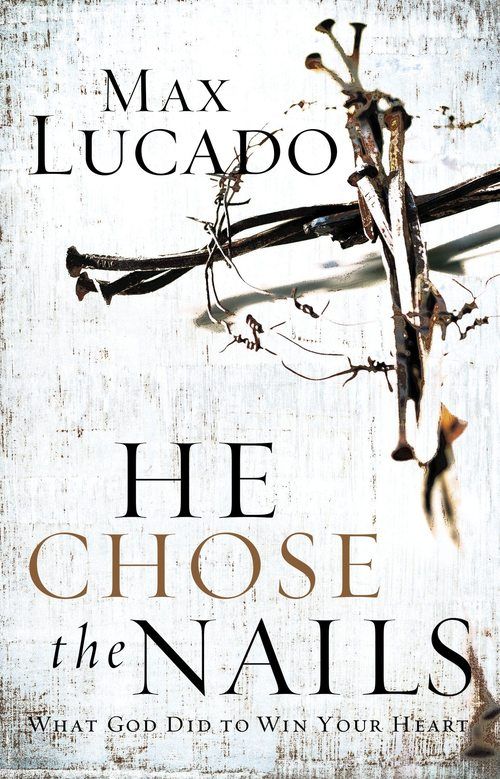 Women's Luncheon & Style Show Speaker
On Saturday, April 30th, the women of FUMC will have their 2nd Annual Women's Luncheon and Style Show at 10:30 a.m. in the Family Life and Worship Center with an inspirational speaker. Lynette Connell will join us as our special guest speaker.

In 1999, Lynette Connell Kunz's life changed forever. Working as a leading sales and marketing consultant, Lynette had little ideas of the new chapter God was about to unfold. She miraculously survived a roll-over car accident breaking her neck leaving her a quadriplegic, paralyzing her from the chest down. Having been told that she might not sing again because of paralyzed vocal cords and diaphragm, Lynette was determined to prove the doctors wrong. After six months, doctors were astounded to discover both of Lynette's vocal cords were completely restored. This miracle was surely a sign from God to help Lynette embark on what she remembers from an early age: God's calling to use her in some special way to minister to others.

Prior to her accident, as an undergraduate student enrolled in the Voice Department of Texas State University, Lynette was cast in leading roles in Puccini operas such as Gianni Schicchi, Suor Angelica, and La Boheme. Shortly thereafter, she became a leading singing-actress in the hometown theater Vive Les Arts performing leading roles in Hello Dolly, Oklahoma, A Funny Thing Happened on the Way to the Forum and Romance/Romance.

Lynette has never let her spinal cord injury keep her from living her life to its fullest. The Institute for Research and Rehabilitation invited Lynette to film a video teaching series for women with spinal cord injury. Her ministry for reaching out to others quickly grew. She resumed her talents on stage through performance in a special concert entitled Lynette and Friends sponsored by Vive Les Arts, where she currently serves on the board.

Lynette is an active member of Eels on Wheels, an Austin based disabled scuba diving group comprised of dedicated volunteers and disabled divers.

Tickets are on sale now and we invite you to join us hear Lynette's awesome testimony!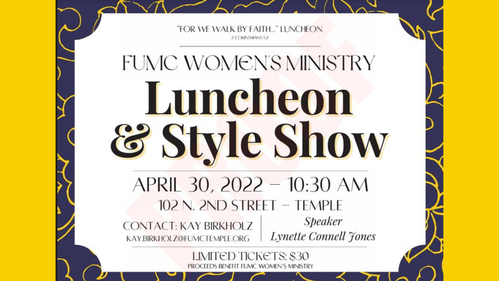 A special time for young women...single, married, with children, or without children to share friendship, life and love of Jesus. Every month is a different theme or topic to be shared.
Check the church event page for the next monthly meeting!
For information:
email
Kay Birkholz
or call 214-773-5269
Advanced reservations needed for lunch and childcare!
United Women in Faith (UWF)
United Methodist Women is a community of women whose purpose is to know God and experience freedom as a whole person through Jesus Christ; to develop a creative, supportive fellowship; and to expand concepts of missions through participation in the global ministries of the church. To learn more about the UWF organization,
check out their website.
Dorcas
Dorcas Circle meets on a monthly basis, September through May. We embrace our time together celebrating joys, sharing concerns, exploring the missions of UMW and lifting each other and our community up in prayer. Each meeting includes a greeting and prayer, UMW business, a Response Moment, a program presented by a member, and a Bible Study by Pastor Tom. Membership is open to all women and new members are welcome anytime.
When - 3rd Wednesday of the month (Sept-May), 10 am - Noon
Where - 3rd Floor Zoom Room and via Zoom
Contact - Sue Ward 254.774.8936
dwain_ward@sbcglobal.com
Ilene Miller 254.778-.4369
ilene.millertx@gmail.com
Dangerous Women Bible Study
Dangerous Women nurture and encourage one another in spiritual growth and personal development. Our weekly meetings include book studies on a topic we all agree on that interests us for spiritual growth. Membership is open to all women and new members are welcome anytime.
When - Tuesdays, 6:30 - 7:30 pm
Where -Parlor
Contact for Zoom Information:
Janet Abbe 254.774.6993
janetabbbe1@gmail.com
Kathy Kinsey 254.791.9109
Ilene Miller 254.778.4369
ilene.millertx@gmail.com
Check out the South District UMW Quarterly Newsletter for July - September, 2021
here
.
For more information contact Ilene Miller: (254) 718-8050 or
ilene.millertx@gmail.com
Welcoming all levels, chair yoga is designed to help you find balance, stability, your focus, and discover the light within you. Chair Yoga offers a practice that includes seated poses on the chair and standing poses using the chair for balance and support. To register contact Kay Birkholz! Class is held in the Family Life Center
When: Wednesdays, 1:00-2:00 PM
Where: FLC
Serena Lewis, Instructor


"Jewels for Joy" Card Making Classes & Workshops
Kay Stewart, Instructor
October 4, 2021
10:00am - 12:00pm

Send sentiments from the heart with a handcrafted card! Learn various card making techniques with Kay on Class Days and then put them to use on the Workshop Days. Each class focuses on a different technique/theme with exciting new creations. No experience necessary to attend classes. Workshops are for those that bring their card making supplies and have attended classes. To replenish supplies, you may give a Love Offering. Card Making is a great opportunity to make new friends, learn a new hobby to make others happy, and have fellowship and fun! Meets in the 3rd Floor Zoom Room
"Let's Paint" Watercolor Class
Marjorie Curl, Instructor
October 4, 2021
1:30 - 3:30pm
Meets in the 3rd Floor Zoom Room
We'd love to hear from you. Fill out the form below to get started.